Examples for Osmarender
There are two examples in the Osmarender chapter for which we offer the example rules files here and some example maps generated from them.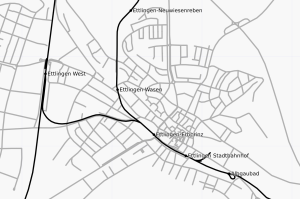 Example 1: Rail network
In the first example the rail network with stations is shown. Roads appear only in the background for context.
Osmarender rules file | SVG | PNG
(You have to download the rules file with "Save as...", displaying it in the browser does not work. The SVG file will display in some browsers, for other you'll have to download it, too.)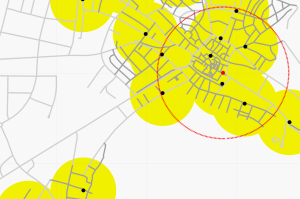 Example 2: Distribution of Post Boxes
In the second example we want to show the post boxes and post offices with their catchment area. Post boxes are shown as black dots, a yellow filled circle around the post box shows the catchment area. Post offices are shown as red dots, their catchment area as a dashed red line.
Osmarender rules file | SVG | PNG
(You have to download the rules file with "Save as...", displaying it in the browser does not work. The SVG file will display in some browsers, for other you'll have to download it, too.)